Season's Greetings to Family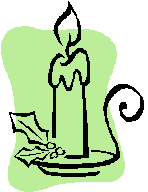 and Friends
Every year it seems Patrick recounts another tough year and every year he rebuts with claims of renewed hope for the new year. Well this past year has been pretty good for the Hogan clan though we are still pretty short on liquid assets. Our family continues to grow and Genie and I are always trying to figure out what we can do differently to make raising Emily and Matthew better for them and for us. We both are amazed at how challenging parenting really is and marvel at how these kids adapt and develop so quickly.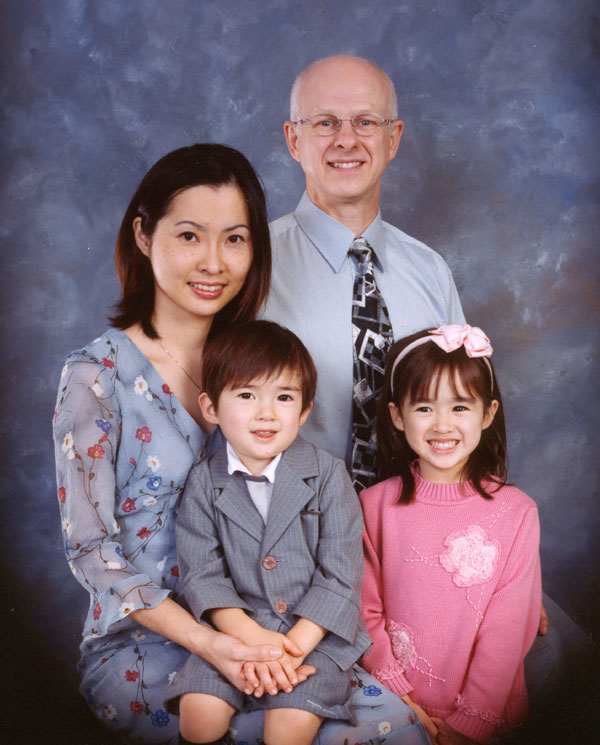 The big events of the year have been the purchase of a half duplex in Eagleridge near Coquitlam Center, Emily starting pre-school and Patrick establishing his tutoring services in our new neigbourhood. Genie continues to provide the essential services to our homestays which continue to be an important part of our daily family life.
Our new place is much bigger than the condo we sold two years ago so we enjoy the fruits of suburban living complete with a backyard, parks close by and a great selection of schools to consider for Emily and eventually Matthew. We still miss North Vancouver but we are finding new friends and enjoying the many pluses and conveniences of the Tricity area.
Matthew starts preschool this January joining Emily for all the fun and frolic three days a week. The preschool is a parents participation preschool so Genie will need to double up on her duty days. Although Genie quite likes her duty time with all the children so it offers an enjoyable outing with the kids. She says it really is educational and it gives her an opportunity to connect with the other duty-day moms. Well bravo to that.

continued...
The dancing energy of Emily was harnessed in part by her attendance in a dance class for preschoolers. All the attendees were girls and they all seemed to bond well with their teacher Brittney. Brittney had assumed Emily had taken dance training before. We laughed because we told her she had trained with the best in the world, none other than Michael Flatley himself. Of course, the training was limited to the two videos we have which served to inspire and energize a truly active Emily on what seems countless occasions. Even Matthew likes Celtic dance and has attached his unique interpretation to the art.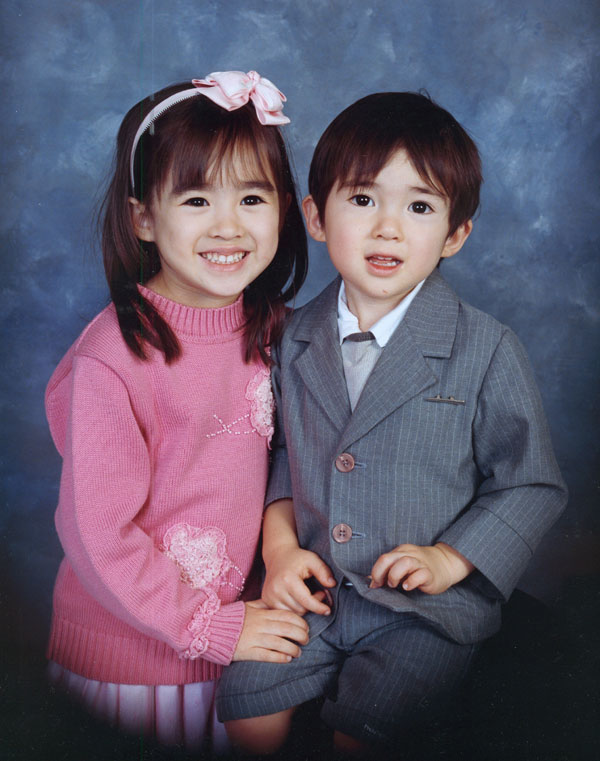 Emily and Matthew - December 2004
Tutoring to the Korean community continues to be a mainstay of Patrick's work. Only one ad was used to market his services and over-night the schedule filled up. He continues to keep one pair of students (brothers) from North Vancouver that he is rather fond of teaching. With so many students in Coquitlam and the surrounding area Patrick has needed to rely on the rather stellar services of Genie to coordinate and communicate to student's and their English-challenged parents or homestay parents. Her efforts have been essential to Patrick's success in tutoring to the Korean community.

Another bright spot on Patrick's work arena is the reappearance of his old boss who has contracted the webmaster responsibilities to him. This has been great fun and is proving profitable as well.

Genie is restless to get training and moving a career path forward and continues to give this much thought and planning. Her day is not too far off.
Well that raps up another year.

May all the love we have and share be ever present and may our fears be lessened and the wisdom of the ages be shone through our minds and hearts. God bless and have a joyful Christmas and a very happy New Year!
Patrick, Genie, Emily & Matthew