Welcome to another addition to our family's newsletter. As most of you know it has been a busy year for us Hogan's having started our second year at Adderley Street and very much enjoying this pleasant neigbourhood. The big events can be summarized as Jiwon's visit, Emily starts grade one, Genie and Patrick get married in the church, saying good-byes to Minjoo and Amy and a welcome to Sunny. Also near to home was Patrick's parent's 60th wedding anniversary!
Patrick continues to work as both a tutor and increasingly as a web developer and programmer, especially for his old boss, formerly with the Bank/Trust company Patrick worked at . It is nice to stay connected with the old guard where he spent so many years working. He also upgrading his skills which will launch a major new work opportunity with, you got it, my old boss. So the new year is looking good for both Patrick and Genie.


Matthew and Emily
Emily is enjoying grade one and has made many friends at school. She loves to be active so we have put her in an acrobat class with Matthew. She also takes tap-dancing where she recently took her first dance exam. Genie and Patrick are very proud of her progress in reading. She reads everyday and is even getting involved in teaching Matthew how to read and write. Often times she reads Matthew's storytime book while mom or dad read hers. It muses both mom and dad that her favourite stories come from our children's Bible.
<![if !vml]>

<![endif]> We Got Married! <![if !vml]>
<![endif]>
Patrick and Genie got married in the church on November 25th. Later that day it snowed and snowed. The next day, more snow and then more again the next day. Keep the snow bit in mind for later. Well it was a great little wedding for us and we especially enjoyed having our friends over to help us celebrate. To all of you dear friends, thanks from the bottom of our hearts for your warm and loving presence and thoughtful gifts. Our home feels blessed in more ways than one.
Now, about all that snow. Apparently, westerners have no idea about the significance of snow occurring on your wedding day. According to legend and traditional Asian wisdom, such occurrences are thought to bring good fortune. In my books that spells money. If the snow level was any indicator we should be getting along just fine in the future. So while the snow may have been an inconvenience to many of you, it was ever so sweet to us, and of course all the kids love the snow, legends notwithstanding.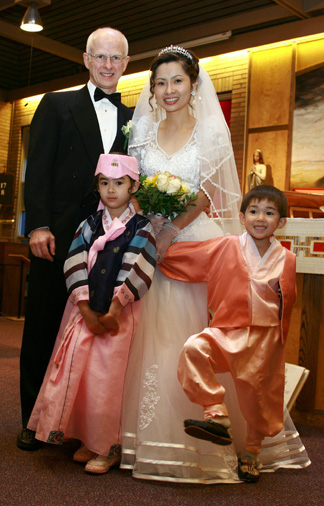 The Hogan Family has wed